Once again…more new Cars 2 characters!
I'm nursing a repetitive strain injury caused in a freak keyboard accident today so I'm afraid I'm trying to minimize my typing for a few days. Here's some nifty pictures for everyone to look at while I recover.
At a recent event celebrating the release of the new movie, a life sized replica of Finn McMissile was u
nveiled and it will be touring the US as a promotional gimmick.
Along with this increase in promotion there have been several items circulating the 'Net recently, like this life sized Lightning McQueen made entirely out of Lego that turned up at the 2001 New York Toy Show.

While some of this may be anti-climactic after seeing a massive Lego rendition of everyone's favourite stock car. Pixar has also released profiles of two more characters that will be in the new movie.
Check out the pictures and bios of the new characters below!
Nigel Gearsley
Nigel Gearsley from Warwickshire, England, is an Aston Martin DB9R racer bearing #9. He got his start racing the Speed Hill Climb—a unique, completely uphill race through the Aston Hill Mountain Area that his family has run for generations. Nigel's racing career has been anything but an uphill challenge, as he's won nearly every start in the past few years on the Grand Touring Sports Car circuit, including a string of podiums at Nurburgring and Le Mans. His cool British refinement makes him an imposing presence on the World Grand Prix courses.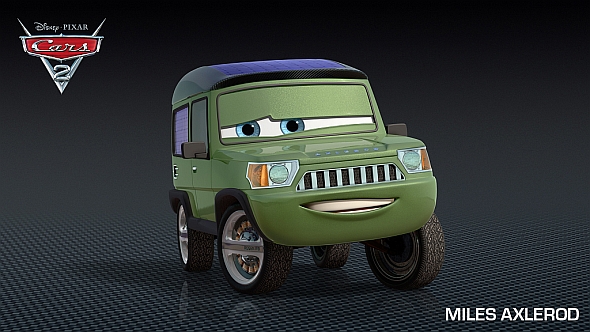 Miles Axelrod
Sir Miles Axlerod is a former oil baron who has sold off his fortune, converted himself into an electric vehicle and has devoted his life to finding the renewable, clean-burning energy source of the future—ultimately discovering what he believes is the fuel everyone should be using. Axlerod is also the car behind the World Grand Prix, a three-country race he created that attracts the world's top athletes—but it's really an excuse to show off his new wonder-fuel, Allinol.